MTU Aero Engines develops, manufactures, sells and services commercial and military propulsion systems for airplanes and helicopters, as well as industrial gas turbines. The key to our success is developing the propulsion systems of tomorrow - even more economical, lower in emissions and quieter. With over 11,000 employees, we are present around the world, but we make our home in Germany. You, too, can become part of our dedicated Team in Munich:
Montageprüfer / Flugtriebwerkmechaniker (all genders)
Code - TOMV / 407
YOUR TASKS
Koordinieren des DV-seitigen Aufbau-Prozesses, Überprüfung der DV-Aufbau-Konfiguration auf Vollständigkeit und Übereinstimmung mit der MPL (Master Parts List)
Überprüfung des Änderungsstands aller betroffenen Komponenten anhand der Aufbaudokumentation
Durchführung von Eingangsprüfungen an Modulen/Baugruppen und Einzelteilen
DV-seitige Erfassung der Laufzeiten, Serialnummern und Modifikationen und Konzessionen
Überprüfung der Laufzeitberechnung an allen betroffenen Komponenten anhand der vom Betreiber mitgelieferten Daten
Prüfung (z.B. Sicht- und Maßprüfungen) der ausgebauten Einzelteile und Module / Baugruppen nach vorgegebenen Unterlagen
Durchführung der Schluss- und Endprüfung nach vorgegebenen Unterlagen und Erstellen der nötigen Dokumentation
Erfassung der Prüfergebnisse in den dazugehörigen DV-Systemen
Durchführung der manuellen Instandsetzung an Bauteilen nach Vorgabe
YOUR PROFILE
Ausbildung zum Fluggerätmechaniker:in mit einschlägiger Berufserfahrung oder mehrjährige Praxistätigkeit als Fluggerätmechaniker:in im Triebwerks-/ Instandhaltungsbereich
Einschlägige Erfahrung im Bereich Schluss- und Endprüfung
Erfahrung im Umgang mit den triebwerksspezifischen DV-Systemen
Gute Englischkenntnisse
Bereitschaft zur Schichtarbeit
Selbstständige und zuverlässige Arbeitsweise
Freude an der Arbeit im Team
OUR OFFER
We offer you numerous additional services that are tailored to your needs. These include extensive further training and customized development programs, an attractive pension scheme, health and fitness offers (e.g. through our cooperation with EGYM Wellpass and our MTU gym), measures to combine family and professional life, such as flexible working time models or the possibility of mobile working. MTU provides individual support for newcomers when moving to the greater Munich area. We offer you the best possible conditions for your success!
We shape the future of aviation and bridge cultures and people. Our employees' diverse ideas, experiences and perspectives are essential to our success. As an employer, we are committed to promoting diversity and inclusion in the workplace.
READY?
Give your career a boost and send us your complete application. Please indicate your earliest possible start date and your salary requirement, and use our online application form, which you can access directly from this page.
We look forward to getting to know you.
Your Recruiter: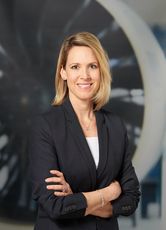 Verena Heselich
Tel.: +49 89 1489-9451