MTU Aero Engines develops, manufactures, sells and services commercial and military propulsion systems for airplanes and helicopters, as well as industrial gas turbines. The key to our success is developing the propulsion systems of tomorrow - even more economical, lower in emissions and quieter. With over 11,000 employees, we are present around the world, but we make our home in Germany. You, too, can become part of our dedicated Team in Munich:
Fachkraft für Abwassertechnik / Galvanik / Chemiearbeit (all genders)
Code - TOO4 / 473
YOUR TASKS
Durchführen von Neuansätzen bzw. Korrekturen der Prozesse und Reinigungslösungen der galvanischen Prozesse
Pflege und Wartung der Ausrüstung von Bädern
Mithilfe beim Aufbereiten von Abwässern und Sonderabfällen für die MTU Produktionscenter
Mithilfe beim Betreiben der Ionenaustauscheranlage zur Herstellung entionisierten Wassers
Fachgerechte Einlagerung und Bereitstellung von Chemikalien
Lagerverwaltung sowie Disposition von Chemikalien und Hilfsstoffen für Prozess- und Reinigungslösungen
YOUR PROFILE
Abgeschlossene Ausbildung zum Galvaniseur:in, Chemiefacharbeiter:in oder auf andere Weise erworbene Kenntnisse und Fertigkeiten
Kenntnisse in der Lagerung und im Umgang mit Gefahrenstoffen
Bereitschaft zur Arbeit im Schichtbetrieb
Gute Deutschkenntnisse
Selbstständiges und eigenverantwortliches Arbeiten
Freude am Arbeiten im Team
OUR OFFER
We offer you numerous additional services that are tailored to your needs. These include extensive further training and customized development programs, an attractive pension scheme, health and fitness offers (e.g. through our cooperation with EGYM Wellpass and our MTU gym), measures to combine family and professional life, such as flexible working time models or the possibility of mobile working. MTU provides individual support for newcomers when moving to the greater Munich area. We offer you the best possible conditions for your success!
We shape the future of aviation and bridge cultures and people. Our employees' diverse ideas, experiences and perspectives are essential to our success. As an employer, we are committed to promoting diversity and inclusion in the workplace.
READY?
Give your career a boost and send us your complete application. Please indicate your earliest possible start date and your salary requirement, and use our online application form, which you can access directly from this page.
We look forward to getting to know you.
Michael hat mit einer Ausbildung zum Oberflächenbeschichter seine Karriere bei der MTU gestartet. Jetzt arbeitet er als Prozessverbesserer in der Galvanik. Was genau zu seinen Tätigkeiten gehört und warum er diese besonders spannend findet, erklärt er uns im Video:
Your Recruiter: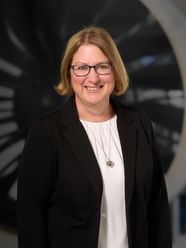 Sabine Salvermoser
Tel.: +49 89 1489-4538