MTU Aero Engines develops, manufactures, sells and services commercial and military propulsion systems for airplanes and helicopters, as well as industrial gas turbines. The key to our success is developing the propulsion systems of tomorrow - even more economical, lower in emissions and quieter. With over 11,000 employees, we are present around the world, but we make our home in Germany. You, too, can become part of our dedicated Team in Munich:
Systemingenieur Safety und Reliability (all genders)
Code - AEGA 624
YOUR TASKS
Als Systemingenieur Safety und Reliability sind Sie verantwortlich für die Durchführung der System Safety Analysen zur Unterstützung der Entwicklungsteams für Triebwerksregelungs- und -überwachungssysteme. Sie planen und bearbeiten Safety-Aktivitäten in den Phasen der Produktdefinition bis zur Zulassung und führen Risikobewertungen für Systeme im Einsatz durch. Darüber hinaus stellen Sie die Tragfähigkeit neuer technologischer Konzepte sicher, indem Sie die Sicherheitsperspektive frühzeitig in den Prozess einbringen.
Ihre Aufgaben umfassen:
Zusammenarbeit mit System-, Software- und Hardware-Ingenieuren in integrierten Entwicklungsteams, um sicherzustellen, dass die Sicherheitsziele des Systems erfüllt werden
Definition und Verbesserung von Sicherheitsanalyseprozessen und -plänen für neue und bestehende Regelungs- und Überwachungssysteme
Durchführung von Sicherheitsanalysen auf Systemebene, wie z. B. FHA, (P)SSA, CCA
Durchführung von Zuverlässigkeitsanalysen auf Systemebene, wie z. B. FMEA/FMECA/FMES
Erstellung geeigneter Safety-Dokumentation zur Unterstützung von Gate- und Zulassungsreviews
Erstellung von Compliance-Statements für die jeweils anwendbaren Zulassungsanforderungen und Vorschriften
Bewertung der Auswirkungen auf die Systemsicherheit von Fehlern und Defekten, die während der Entwicklung oder während des Betriebs festgestellt wurden
Unterstützung der Chief-Controls-Engineers in internen und externen Safety-Boards
YOUR PROFILE
Abgeschlossenes Studium (TU) der Fachrichtung Elektrotechnik, Regelungstechnik, Luft- und Raumfahrttechnik, Mechatronik, Maschinenbau bzw. vergleichbare Ausbildung oder gleichwertige durchlangjährige Berufserfahrung erworbene Kenntnisse
Mehrjährige Berufserfahrung in der Durchführung von System-Safety-Analysen in Übereinstimmung mit relevanten zivilen oder militärischen Luftfahrtnormen (z. B. ARP4754/4761, DO178/DO254, MIL-STD-882)
Kenntnisse in der Anwendung relevanter Entwicklungswerkzeuge (z. B. Windchill Quality Solutions, Isograph Reliability Workbench, DOORS/Dimensions)
Fundierte Englischkenntnisse
Bereitschaft zur Übernahme von Verantwortung
Abstraktionsvermögen und systemisches Denken
Fähigkeit zum selbständigen Arbeiten in unterschiedlichen Entwicklungsteams
OUR OFFER
We offer you numerous additional services that are tailored to your needs. These include extensive further training and customized development programs, an attractive pension scheme, health and fitness offers (e.g. through our cooperation with EGYM Wellpass and our MTU gym), measures to combine family and professional life, such as flexible working time models or the possibility of mobile working. MTU provides individual support for newcomers when moving to the greater Munich area. We offer you the best possible conditions for your success!
We shape the future of aviation and bridge cultures and people. Our employees' diverse ideas, experiences and perspectives are essential to our success. As an employer, we are committed to promoting diversity and inclusion in the workplace.
READY?
Give your career a boost and send us your complete application. Please indicate your earliest possible start date and your salary requirement, and use our online application form, which you can access directly from this page.
We look forward to getting to know you.
Your Recruiter: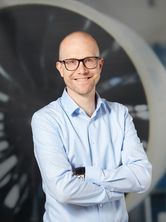 Michael Schulz
Tel.: 089 1489 73533