MTU Aero Engines develops, manufactures, sells and services commercial and military propulsion systems for airplanes and helicopters, as well as industrial gas turbines. The key to our success is developing the propulsion systems of tomorrow - even more economical, lower in emissions and quieter. With over 11,000 employees, we are present around the world, but we make our home in Germany. You, too, can become part of our dedicated Team in Munich:
Berechnungsingenieur Strukturmechanik (all genders)
Code - AES/714
Als Strukturmechaniker:in (B. Sc / M. Eng.), sind Sie verantwortlich für die Modellierung und Berechnung von Triebwerksbauteilen der MTU Aero Engines AG und leisten damit einen entscheidenden Beitrag zur Flugsicherheit. Es gilt sicherzustellen, dass alle Lasten, die während des Lebens eines Bauteils auftreten, korrekt modelliert und berechnet werden. Dazu gehören auch die Auslegungsrechnungen für Rigs und Komponentenversuche sowie die Berechnung von Zeichnungsabweichungen und Reparaturen. Sie arbeiten dabei eng vernetzt mit anderen Kolleg:innen Ihres Teams. Unsere Abteilung ist nach Bauteilgruppen organisiert (Rotoren, Gehäusen, Schaufeln, Lagerstrukturen, Triebwerksdynamik und der Materialmodellierung), so dass Sie in einem dieser Bereiche tätig sein könnten.
YOUR TASKS
Die Aufgabe ist reizvoll, weil
Sie täglich dazu lernen, aber auch an neue anspruchsvolle Aufgaben herangeführt werden und Sie ihre Fähigkeiten einbringen können
Sie nahe an unseren innovativen Triebwerken sind und fast alle Bereiche der Strukturmechanik abdecken (z.B. FEM, nichtlineare Dynamik, Bruchmechanik, LCF, HCF)
Sie sich gezielt in der Strukturmechanik weiterentwickeln können
Sie in einem starken Team mit Ihren Kolleg:innen zusammenarbeiten
YOUR PROFILE
Sehr gutes abgeschlossenes Bachelor- (Universität) oder Masterstudium (Hochschule für angewandte Wissenschaft o. Ä.) der Fachrichtung Maschinenbau, Luft- und Raumfahrttechnik oder einer vergleichbaren Studienrichtung
Absolvent:innen und Berufserfahrene sind gleichermaßen willkommen
Gute Kenntnisse in technischer Mechanik und numerischer Simulation gepaart mit fundierter IT-Kompetenz
Sehr gute Kommunikationsfähigkeit und hohes Verantwortungsbewusstsein
Neugierde, analytische Denkweise und Freude an der Arbeit im Team
Gute Englischkenntnisse
OUR OFFER
We offer you numerous additional services that are tailored to your needs. These include extensive further training and customized development programs, an attractive pension scheme, health and fitness offers (e.g. through our cooperation with EGYM Wellpass and our MTU gym), measures to combine family and professional life, such as flexible working time models or the possibility of mobile working. MTU provides individual support for newcomers when moving to the greater Munich area. We offer you the best possible conditions for your success!
We shape the future of aviation and bridge cultures and people. Our employees' diverse ideas, experiences and perspectives are essential to our success. As an employer, we are committed to promoting diversity and inclusion in the workplace.
READY?
Give your career a boost and send us your complete application. Please indicate your earliest possible start date and your salary requirement, and use our online application form, which you can access directly from this page.
We look forward to getting to know you.
Your Recruiter: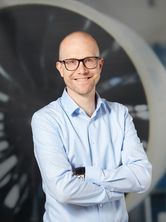 Michael Schulz
Tel.: 089 1489 73533